If you're looking for a fun, engaging way for your child to make new friends and continue their education during the summer months, a STEAM summer camp is an excellent option. STEAM camps keep your child social and active and help them develop the education and character skills they'll need year-round!
In this guide, we'll cover what your kid will learn at a STEAM camp and some of the benefits of these hands-on summer learning programs.
What Will My Kids Learn in a STEAM Camp?
A STEAM summer camp differs slightly from a STEM summer camp. STEM camps focus solely on teaching children science, technology, engineering and mathematics concepts through interactive, collaborative activities that encourage problem-solving skills.
However, in a STEAM camp, your child will explore science, technology, engineering and mathematics concepts in addition to the arts and humanities. Your kid will explore topics like drama, music, design, media, dance and more at a STEAM summer camp.
From hands-on experiments to dancing, your child will explore all subjects and art forms at a STEAM summer camp.
Should My Kids Do a STEAM Summer Camp?
If your child is school-age and has demonstrated interest in STEAM topics, they'll love our Destination Science STEAM camps. We offer three interactive science lessons every day, so your child will get to experience 15 each week.
Kids aged 5 to 11 who learn problem-solving skills early on may develop a greater interest in STEAM topics. They'll also more likely have confidence in the classroom through middle school, junior high, high school and beyond!
Participants in our summer camp will learn skills they'll take with them throughout all areas of life, including:
Critical thinking
Teamwork
Creativity
Resiliency
Confidence
The Benefits of a STEAM Summer Camp
The pool and park keep children entertained during summer, but they may not help your child beat the summer slide when they're not at school. Kids can flourish academically, learn to love science and beat the summer slide at a STEAM camp. Your child will also make new friends they'll look forward to seeing each summer.
We will help your child explore their favorite topics and learn life and character skills. At Destination Science, we teach kids to be lifelong, curious learners by helping them observe the world around them, ask questions and try new things. Kids discover that learning, teamwork and having fun go hand-in-hand at STEAM camp.
The best part? The learning and fun don't end when summer does! Everything your child makes at a Destination Science STEAM camp is theirs to take home. They'll show you what they learned and continue experimenting on their own, using their camp experiments to inspire continued exploration and learning. Our STEAM camp is truly worth it because of the opportunities it offers kids to learn while having a blast and developing life skills.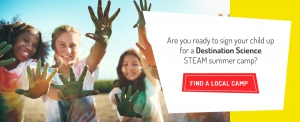 Find Your Local Destination Science Camp Today!
Are you ready to sign your child up for a Destination Science STEAM summer camp? We offer themed STEAM camps in over 90 locations nationwide. Find a local camp and enroll your child today!