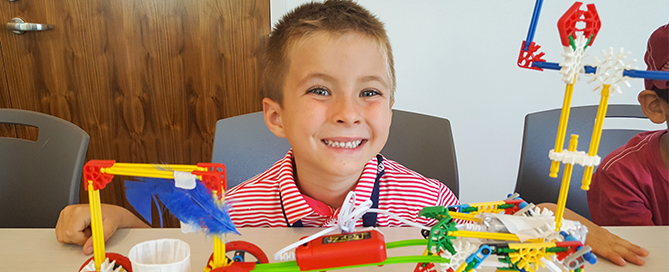 Elementary school students are at the perfect age to meld fun with learning. They're old enough to understand more complicated science concepts, but they still want to have a good time while they learn. When you enroll them at a Destination Science camp, they'll get the best of both worlds!
Our camps for kids ages 5 to 11 allow them to build their social skills and science knowledge while doing things they enjoy. We use creative techniques to engage children and get them asking questions. They love seeing the unexpected things that happen when they try an experiment. Our hands-on fun through projects, games and other activities will help your little one develop skills they'll use throughout elementary school and high school, increasing their curiosity and teaching them to work with others in teams.
Destination Science holds themed camps each summer. Children finish three lessons a day and also have time to play together. See why hundreds of parents choose our camps for summer learning.
The Benefits of Attending Science Summer Camps for Elementary Kids
When elementary-aged children attend science camps, they build science and social skills. The many advantages of attending our camps for kids include:
Making new friends: Children meet kids from different backgrounds and bond over fun activities. They create friendships that will last well beyond summer.
Meeting new teachers: A great teacher can inspire kids to learn and grow. The teachers at Destination Science have decades of experience, and they're assisted by university students eager to connect with our next generation of scientists.
Gaining a long-term education: We send our experiments home with our campers and encourage them to play with the projects. They'll enjoy hours of fun showing siblings and friends how an experiment worked or reenacting a scenario from camp.
Building curiosity: Curious kids become accomplished adults. Wanting to know how things work and what happens when something in an experiment changes will help your child in subjects ranging from science to math to English and more. Curiosity equals engagement, and engaged kids become lifelong learners.
Our Science Camp Activities for Elementary Campers Focus on Fun
When your child attends our summer camp, they'll learn through experience instead of hitting the books. They'll see cause and effect, watching two materials come together to form something new. They'll also view surprising things that make them want to ask questions and see what happens next.
Our teachers come to camp every day ready to have fun. They want your child to look forward to each day. These elementary kids love the experience so much that they'll remain excited about science long after camp is done.
Register for Our STEM Camps for Elementary Campers Today
Whether you're looking for science camps for kindergarten students or 5th graders, you'll find that Destination Science has a range of themed camps your child is sure to enjoy. With locations in Dallas, Seattle, Long Island, the Bay Area and more, our camps are accessible across the country. When you sign up early, you can gain special savings, so don't delay. Register your child for camp today!