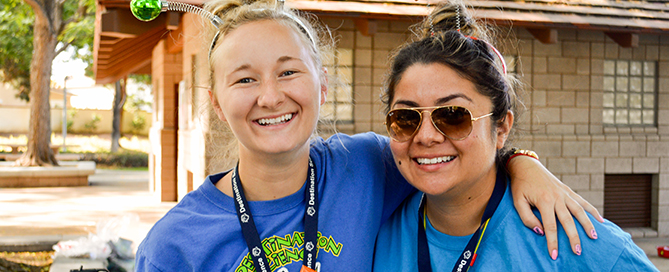 It's not just a job. It's an adventure.
Whether you are a pro with kids or just beginning, we have a position for fun, dynamic educators like you. From camp directors to site assistants, our staff seek out those "Aha!" moments to share with kids! At over 100 locations in five states, teachers lead campers ages 5 to 11 through a full week of hands-on fun. Aided by kid-friendly gizmos, gadgets and a little goop, entertaining science demonstrations, and inventive lesson plans, we know how to educate and have fun. All of Destination Science instructors are experienced educators, classroom teachers and university students, each focused in growing kids and chosen for their ability to relate to children and build an effective baking-soda volcano. STEM (science, technology, engineering and math) learning is more important than ever before. In fact, it's a national movement. Start your adventure of fun and growth this summer by heading towards Destination Science!
Feedback From our Team
"Everyone working for DS is so passionate about making a difference in the camper's lives. From office staff, to our staff in the sites, everyone has been friendly and ready to help."  "
"Being around really awesome coworkers!"
"My WOW would be the comprehensive training."
"The flexibility of the staff and the excited looks on the campers faces when they received their fun items and seeing how the toys connected to science. Some of the great fun lessons that even me as the teacher had fun doing."
What Makes Destination Science Unique?
Each year, hundreds of children across the country take part in our STEM and STEAM summer camps. They participate in hands-on projects that teach them science through fun! Peak moments at camp include:
3 science stations with fun take-home projects for your child to share with you what they learned
Fun rallies, games, camp songs, dress-up days and spirit days
Terrific beads for kids to collect while learning life skills
EG Awards that promote curiosity, perseverance, problem solving, creativity and cooperation
Our students' enjoyment of our camps is a testament to the skill of our STEM camp teachers, who excel at their jobs. They create an environment where kids feel encouraged to ask questions and feed their curiosity every day.
Is Destination Science the right job for you? Our science camp summer teaching jobs are as unique as the camp itself. We often feel inspired by our staff, who show dedication to our campers and enjoy what they do. We perform a background screening on all teaching candidates, and our hiring process searches for people who will thrive in our high-energy, dynamic environment.
We have a selective process for hiring, and we want the best teacher candidates. If you're an enthusiastic teacher who can help kids get excited about learning, you could make a great fit for our team!
The Hiring Timeline & Process
The best summer ever is as easy as 1, 2, 3.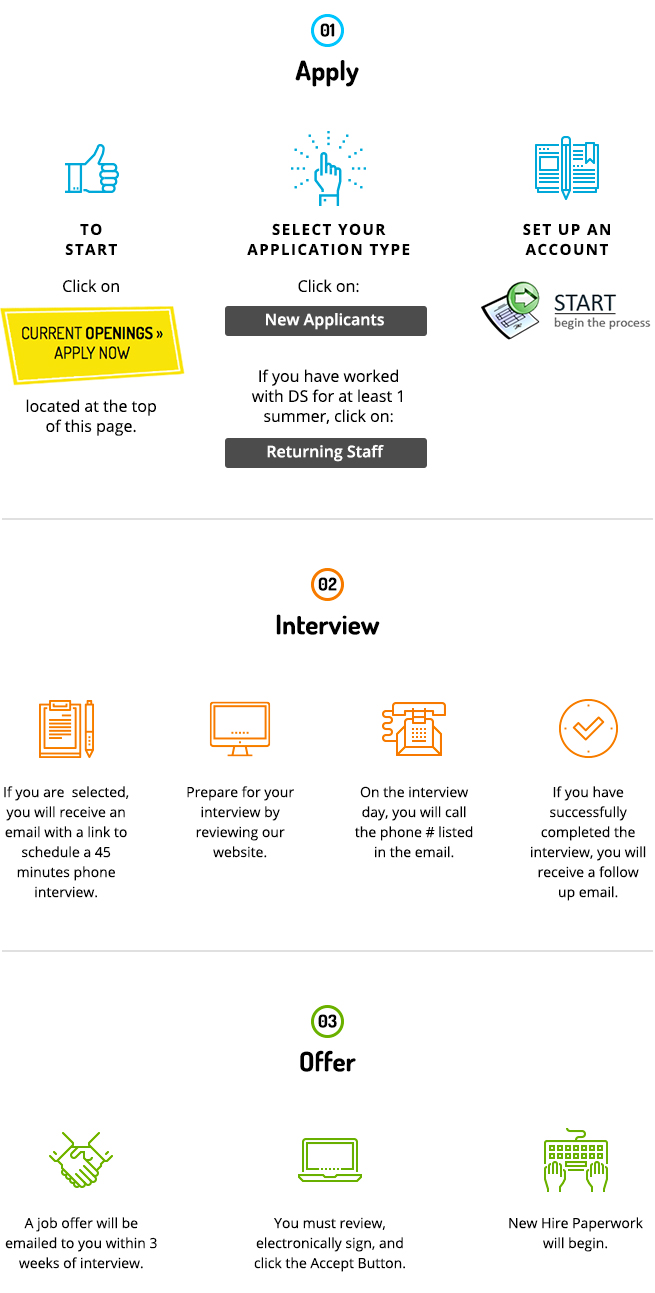 Teach About a Subject You Care About
Each year, Destination Science hosts four themed camps at our locations across the United States. We work hard to come up with ideas that will appeal to our young campers and give them a worthwhile experience that will translate into greater interest in the subject.
That means we have jobs available across a range of subjects, which may include:
Robotics
Engineering
STEAM
Space
No matter your background, you can find a place for your expertise at Destination Science. Our teachers love sharing knowledge they've gleaned firsthand through experience or by teaching certain subject matter again and again. When you connect with a subject you love, you'll feel energized, and the campers will connect with that energy.
There's nothing better than a motivated teacher who loves what they're doing. We're looking to fill science and STEM summer camp counselor jobs with people who can bring that type of passion to their position.
Apply for One of Our Science Camp Counselor Jobs
One of the best parts about Destination Science camps is that the themes change every year. Our counselors have a chance to teach different subjects and develop new expertise to help the kids. This job provides so many ways to aid children while also having a good time yourself.
Do you think you would be a good fit for one of our science camp teaching positions? Apply today, or refer a friend with a background or interest in education to our program. We love connecting with new people!
Summer Camp Positions
Openings for M-F Full Time and/or Part Time morning and afternoon shifts.
Site Directors
All DS Site Directors have a Bachelor's Degree or higher. All must have experience in leading collaborative teams, elementary aged teaching and effective classroom management skills. Personal commitment toward growth in the following life skills are essential for success as a DS Site Director: ability to organize and lead others, solutions-oriented, coachable, create a fun camp environment, credible, collaborative, positive communicator, resourceful, confident, engaging, passionate, & a lifelong learner!
Teachers
Most DS Teachers have a Bachelor's Degree or higher. All must have experience in elementary aged teaching as well as effective classroom management skills. Personal commitment toward growth in the following life skills are essential for success as a DS Teacher: teamwork, playful, friendly, flexible, dedicated, ability to implement fun lesson plan, integrity, humility, patience, curiosity and a genuine concern for others!
Site Assistants
Most DS Site Assistants have completed  high school and/or are enrolled in university.  All must have history of synchronicity with kids, exemplary life experiences, and willing to accept guidance, direction, and supervision from manager & peers. Personal commitment toward growth in the following life skills are essential for success as a DS Site Assistant: Commit to do whatever it takes to create a safe and joyful learning environment, lead outdoor activities.
All Staff Availability
Available for Pre-Camp Staff Training in May & June. Available during summer, M – F for placement in full time positions, or part time AM or PM Shifts (June – August). Desire a long term relationship with Destination Science.
Returning Staff
We have a spot waiting for you. Join us this summer for more super heroes, physics racers, robots, rockets and our new roller coaster camp! Not available the entire summer or full time? We have part time positions as well as sub and short 2-3 week positions available too!