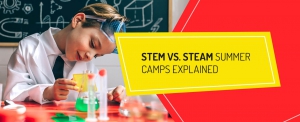 As the world becomes more complex, our ingenuity has never been more critical in solving new and growing problems, and adapting to an increasingly technology-focused professional life. Nobody has a clue what our society will look like in five years, yet children starting school in 2021 will be retiring in the year 2080.
We are required to educate our children for a future we cannot see. So how do parents and educators foster a child's creative capacities so that they are prepared to meet the mounting challenges of a future we cannot grasp?
According to the  U.S. Department of Education, the unpredictable times to come require our future leaders to develop knowledge and skills to solve real-world problems. Furthermore, our children need to have the capacity to make sense of new information and know how to gather and evaluate evidence to make informed decisions. Research shows that we can promote our children's ongoing academic success and foster these critical capacities early through a high-quality STEM or STEAM education.
Summer camps provide an ideal way to promote your children's continued learning during the school break. A STEAM summer camp offers a fun and engaging way for kids to maintain the skills that they acquired during the school year.
What is the Difference Between STEM and STEAM?
STEM education merges subjects that are usually taught separately in schools – Science, Technology, Engineering and Mathematics. STEM education aims to cultivate a child's ability to join the dots across each of these disciplines. Children are taught to make these connections in STEM summer camp programs by engaging them in fun projects that consider the real-world applications of these academic concepts.
We know that the brain isn't divided into compartments. This means that learning something new involves numerous interactions across many different areas. We learn things in all the ways that we experience them – visually, in sound, through hands-on experience, in abstract terms and in movement.  When we acquire and apply new knowledge and skills, our brain creates neural pathways that help us tie each concept to our personal experience. Children are thus better able to recall and retain what they learn when they are given more ways to understand and grasp the subject at hand.
In this vein, the goal of STEAM education is to take STEM programs a step further – through the inclusion of the arts in the teaching of these disciplines. Integrating the arts into STEM gives children more ways to join the dots and encourages them to think more broadly about real-world problems. This approach allows them to comprehend these subjects more deeply because they develop the methods and skills to explore concepts unique to the arts and humanities.
Our STEAM Summer Camp Programs
The inclusion of the arts in STEM education promotes the development of the crucial skills of critical thinking, communication, collaboration and creativity. These skills are naturally embedded in the arts and woven into fun, hands-on activities in our STEAM summer camp programs.
Makerspace Science Mystery Camp 
Curious, young minds will love the opportunity to combine the fun of play with the excitement of engineering. This program gives campers the opportunity to design and build their own eco-friendly, motorized and solar-powered playspace. It will include activities like swings, a slide, a merry-go-round and even a vibrating sled ride. Plus, children will solve a science mystery using real scientific tools for checking fingerprints and performing chemistry and DNA testing.
Robot Island Marine Science Camp
When campers visit Robot Island, they'll use science to create their own fun by building a motorized Bot of their very own! Children will explore new concepts and ideas including circuits, simple machines, compasses and gears. Besides crafting a mini-bot, campers will also be able to create a digital traffic light, a car catapult and a gravity-powered maze.
Adventurous children will love the chance to create a zipline across the island. Kids will also get to meet a shark and get a closer look at mollusks, hermit crabs and even a squid. On top of all that, campers will experience the concept of buoyancy by designing their own scientific vessel.
Astronaut Training Space Camp
Campers will transform into space cadets during this exciting summer camp. They'll build their own solar-powered lunar rover to land on the moon for a 100-day mission. They'll also create a motorized rover that can adapt to different planets as it searches for life, resources and more.
Campers will also build a life-size lunar lab, learn more about the planets and even create an edible Earth as a geological snack. This summer camp will surely get your children excited about the possibilities of space travel and the allure of outer space from a scientific perspective.
These activities all emphasize acquiring technical knowledge and building vital life skills such as perseverance, curiosity, problem-solving and cooperation.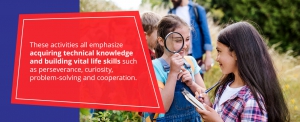 How STEM and STEAM Programs Can Help Kids
The Institute for ARTS INTEGRATION and STEAM explains that an understanding of science, technology, engineering and math is not enough to prepare us for the rigors of the modern economy. Application, creation and ingenuity have become critical requirements for professional life, and these capacities cannot be nurtured solely through a STEM education. Research shows that students who participate in creative programs demonstrate:
Advanced thinking
Psychosocial resilience
Enhanced self-awareness
Social skills like teamwork, communication, confidence, autonomy and motivation
The ability to build connections with their community.
Several studies have shown that students who have a strong foundation in arts also tend to perform better academically as a whole. In one study, the University of Florida found that high school students who studied the arts achieved much higher SAT scores than their peers. Students who took up music appreciation also performed better in the verbal and math sections.
There is no wrong answer in the arts, and this helps to free children from the inhibitions that can stifle the creative process, which often requires some form of trial and error. Art also teaches kids to focus on the process of creation, which drives innovation as children learn to imagine, plan, create, test and improve on their projects. It also educates kids on the instructive power of observation of both people and their surroundings. Furthermore, art helps kids to hone their spatial awareness and better grasp mathematical concepts like geometry.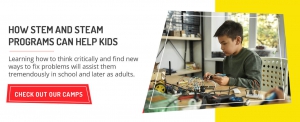 Our children's imagination needs to be nurtured wisely as their capacity to innovate is crucial to their success in a rapidly changing world. Creativity is essential for young kids to learn about coming up with original ideas on their own and putting them to work. Learning how to think critically and find new ways to fix problems will assist them tremendously in school and later as adults.
The skills they learn now will benefit them both academically and emotionally. Ultimately, our children's psychological and emotional development and stimulation are vital to their well-being as they mature and take on new challenges. Parents may not see the future that we are preparing our kids for, but our children will, and our job is to help them to make the most of it.