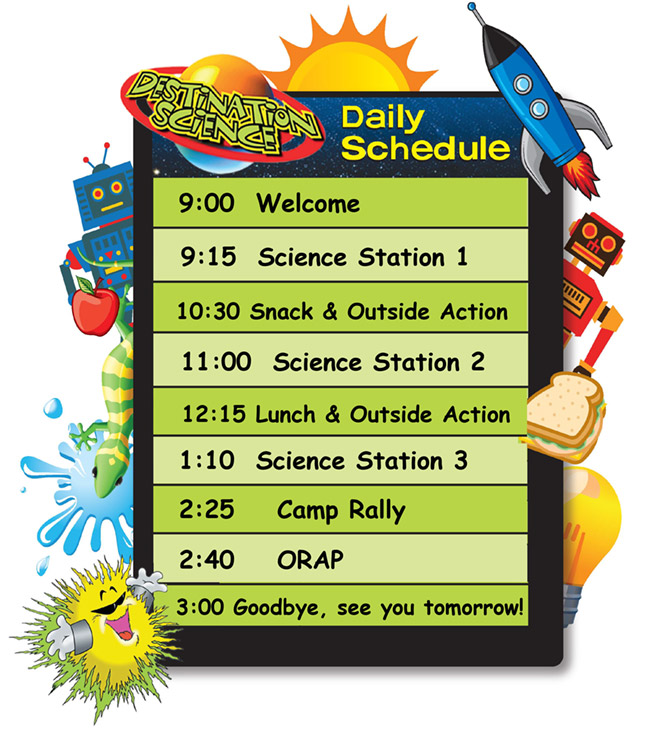 Camping Experience:
A typical day at camp includes both indoor and outdoor science activities, outdoor games, and one super-fun rally! After checking in and getting the day started, we'll start with our first science station of the day, this activity includes a long-term project that will be completed by Friday. From there, we grab our snack and head outside to experience some outside action. Some of our outside activities include games with a SPLASH, so be prepared for some watery fun!
Next up…Engineering 2019! Campers will work in small teams to design creative solutions to fun challenges. Followed by lunch & fun group games. We will round out the day with our third exciting science station until it is time to say goodbye at 3:00, where we wrap up the lessons of the day and get ready for a whole new day of science tomorrow!
Camper Groupings:
At Destination Science, we've designed our camp themes for kids ages 5 to 11. In order for everyone to get the attention they deserve, we only have 14 to a group, separated by ages, so typically the five and six-year-olds work as a team, the seven and eight-year-olds group up, and those nine and older learn together.
Dates and Times:
Our camps are held Monday through Friday, from 9:00 am to 3:00 pm., during the summer beginning in early June and run through August. Each camp location has it's own unique scheduling dates, so check your local listings for your particular camp's details. All campsites will be closed on July 4th.
Extended Care:
Our morning Extended Care lasts from 8:00am to 9:00 am and is $35 per week. Our after-camp Extended Care lasts from 3:00 pm to 5:00 or 5:30 pm (varies by location) and costs $75 per week. NOTE: You must register in advance to take advantage of these offers.
Meet Our Mascot "E.G.":
E.G. is short for "ENERGY!" E.G. is a big ball of energy, always ready to have fun with curious kids while sharing the wonder and imagination of science.